The Global Sustainable Development Report shows that we are heading towards the sustainable development goals of Agenda 2030, but much too slowly. Inequality is increasing, climate change is advancing, biodiversity is decreasing, and waste volumes are growing. These phenomena are affected by several interconnected factors. However, we can change course if we identify the interlinkages between the aforementioned problems and steer our societies comprehensively in a more sustainable direction.
The Finnish Expert Panel on Sustainable Development has now published recommendations that focus more closely on what these interlinkages mean in the Finnish context and what actions need to be taken in the six entry points:
Human well-being and capabilities
Sustainable and just economies
Food systems and nutrition patterns
Energy decarbonization and universal access
Urban and peri-urban development
Global environmental commons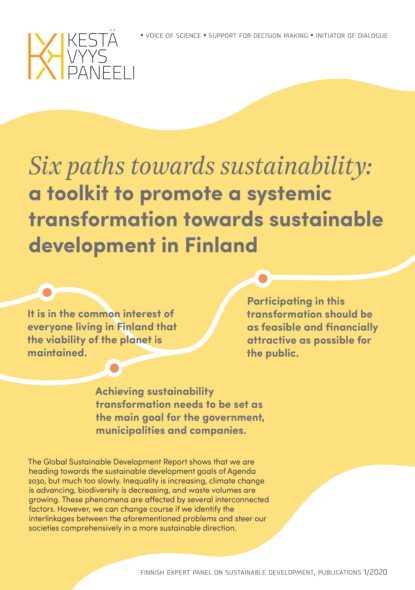 Furthermore, the panel  identified the following steps which take into account these interlinkages:
Interdisciplinary research brings transparency to material and financial flows, and produces knowledge of the impact of new technologies and experiments.
When planning is based on knowledge and collaborative activities, sustainability will become the new normal for individuals and communities.
The use of materials, as well as the use of land in its natural state, must be reduced in all activities, and financial instruments must be adjusted to take sustainability criteria into consideration.
Sustainable development must form the basis of all decision making, planning, and budgeting, in both the private and public sectors.
See the full publication here: Six paths towards sustainability: a toolkit to promote a systemic transformation towards sustainable development in Finland.